Music of the Plants is a device designed by the eco-community in Italy called Damanhur by the group called Devodama, that lives in the trees. They have been doing research since the 1970's, along with many others, discovering the communication that occurs between plants and humans. The machine records plant impulses and interactions through the development of a device that, when clipped onto a plant's leaves and roots, reads electrical variations. The electrical impulses from the leaf and root of any plant are converted into musical notes using a MIDI interface device, which varies based on factors in the environment: proximity to humans, temperature, humidity, and other interactions. It allows for an interactive exchange between people and plants using the medium of music.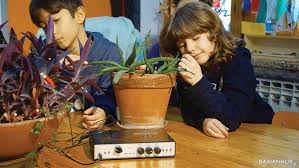 Music of the Plants is a form of expression, beauty, and artistry like no other. Nature has many incredible ways of communicating, but now this device transforms the biorhythms of trees and plants into a musical performance, there is an audible avenue of expression for the plant world. We are actually able to listen to and interact with plants and trees… and the plants and trees are also able to interact with us.
This device is being used in Radiance Health Center to modify the environment and create a live healing atmosphere.
Contact us to learn more about this technology.