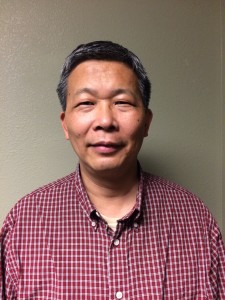 Dr. Li Lu gradated from the Zhejiang College of Traditional Chinese Medicine in Zhejiang, China. While pursuing his doctorate to become an acupuncturist, training included both western and traditional Chinese medicine with an emphasis on herbs.  Dr. Lu completed his residency as a staff doctor at Tong Xiang Hospital in Zhejiang Province, China.  In 1992, he the became chief doctor of the affiliated Yue-Yang Hospital at Shanghai University of Traditional Chinese Medicine, after he had finished 3 years of clinical study and research in traditional Chinese medicine.
He has been invited to lecture in Israel,  the U.K., and the U.S.A.  Dr. Lu has been teaching for 6 years as a professor at the Southwest Acupuncture College on the University of Colorado campus.  He was also a guest professor at the American college of Traditional Chinese Medicine.  He has taught for 8 years at the Colorado School of T.C.M.
Dr. Lu's training includes adjunctive therapies such as Chinese herbs, moxibustion, cupping, tui na "twee na", auriculotherapy, Qigong "chi gong" exercises, and dietary and lifestyle recommendations. Moxibustion includes the use of an herb to balance points along the meridians. Tui na is a form of therapeutic massage. Auriculotherapy is a modality used to address conditions through points along the external ear. Qigong is a specific set of postures achieved through intentional movements and meditative practice. Qigong is thought to be an effective modality to improve physical function among the elderly population.
Acupuncture is a discipline used to restore balance throughout the body. While some people assume the benefits are limited to pain improvement, acupuncture is sought out to address a large range of complaints. The most common complaints being stress and fatigue. Acupuncture is a beneficial tool used to improve chronic conditions when balance is restored.
Our clinic complies with the rules and regulations of the Colorado Department of Health.  Only single-use, disposable, factory-sterilized needles are used.